Coming Soon: Turbulence Book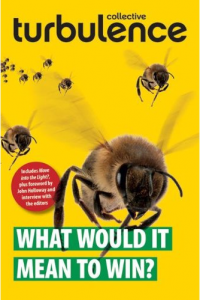 In April 2010, we have a book, What Would it Mean to Win?, coming out with PM Press. The book contains all the articles from the now out-of-print first issue of the magazine, our collective text Move into the Light? Postscript to a Turbulence 2007, and a previously unpublished extended interview by PM Press author Sasha Lilly with Turbulence editors Michal Osterweil and Ben Trott. John Holloway has written a Foreword.
More information can be found here.
Movements become apparent as "movements" at times of acceleration and expansion. In these heady moments they have fuzzy boundaries, no membership lists–everybody is too engaged in what's coming next, in creating the new, looking to the horizon. But movements get blocked, they slow down, they cease to move, or continue to move without considering their actual effects. When this happens, they can stifle new developments, suppress the emergence of new forms of politics; or fail to see other possible directions. Many movements just stop functioning as movements. They become those strange political groups of yesteryear, arguing about history as worlds pass by. Sometimes all it takes to get moving again is a nudge in a new direction… We think now is a good time to ask the question: What is winning? Or: What would–or could–it mean to "win?"
Contributors include: Valery Alzaga and Rodrigo Nunes, Colectivo Situaciones, Stephen Duncombe, Gustavo Esteva, The Free Association, Euclides André Mance, Michal Osterweil, Kay Summer and Harry Halpin, Ben Trott, and Nick Dyer-Witheford.
Reviews
"Where is the movement today? Where is it going? Are we winning? The authors of the essays in this volume pose these and other momentous questions. There are no easy answers, but the discussion is always insightful and provocative as the writers bravely take on the challenge of charting the directions for the Left at a time of ecological crisis, economic collapse, and political disillusionment." — Walden Bello, Executive Director of Focus on the Global South
"Turbulence presents an exciting brand of political theorising that is directed and inspired by current strategic questions for activism. This kind of innovative thinking, which emerges from the context of the movements, opens new paths for rebellion and the creation of real social alternatives." — Michael Hardt, co-author ofCommonwealth, Multitude and Empire.
"The history of the past half-century and particularly the last decade is as easily told as a series of victories as defeats, maybe best as both. Sometimes we won–and this is what makes the What Does It Mean to Win?anthology such a powerful vision of the possible and the seldom-seen present. The authors of this book connect some of the more remarkable events of the last decade–in Oaxaca, in the banlieus of Paris, in the crises of neoliberalism–into a constellation of possibilities and demands, demands on the world but also demands on the readers, to think afresh of what is possible and what it takes to get there. As one author begins, 'The new movements embodied and posited deliberate reactions to the practical and theoretical failures of previous political approaches on the left.' This is the book about what came after the failures, and what's to come" — Rebecca Solnit, author of Hope in the Dark and A Paradise Built in Hell.
Product Details

Author: Turbulence Collective
Publisher: PM Press
ISBN: 978-1-60486-110-5
Published: April 2010
Format: Paperback
Page Count: 160
Dimensions: 9 by 6
Subjects: Politics, Philosophy, Activism
Available for Pre-Order from: PM Press | Amazon.co.uk | Amazon.com | Amazon.ca | Amazon.de | Amazon.at | Amazon.fr | Amazon.co.jp | Borders | Barnes and Nobel | Books-A-Million |

Tweet
comments