Salió la edición de Turbulence en lengua española! // Spanish issue launch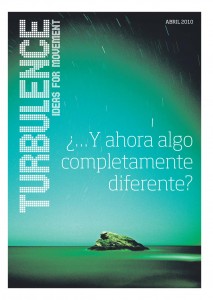 Una edición especial Turbulence está disponible! La revista será repartida gratuitamente en la Conferencia Mundial de los Pueblos sobre el Cambio Climático y los Derechos de la Madre Tierra in Cochabamba, Bolivia (Abril 19-22). Si vas a estar en la conferencia, sería genial que te llevaras algunas a repartir en tu parte del mundo. Para arreglar como recogerlas, escribenos: editors@turbulence.org.uk
Si no vas a estar en la conferencia, pero te gustaría tener copias igual, ponete en contacto. Ellas pueden ser pedidas a cambio de una pequeña contribución para cobrir los costos de envío: http://turbulence.org.uk/donate/
Todos los artículos de esta edición se pueden descargar desde aquí.
Contenidos
[NOTE: English originals available here.]
Turbulence, ¿Vida en el limbo?
Frieder Otto Wolf y Tadzio Mueller, Nuevo Pacto Verde: un callejón sin salida o una vía mas allá del capitalismo?
Rodrigo Nunes, ¿En qué estabas equivocado diez años atrás?
Y TAMBIEN…
…una colección de textos, diez años después de las protestas contra la Organización Mundial del Comercio en Seattle, preguntando a gente de diferentes puntos del movimiento global, 'Sobre qué estabas equivocado hace diez anõs?', en el punto t-10… La colección completa se puede descargar desde aquí.
Contribuciones de: David Solnit | Gustavo Esteva | Emir Sader | Phil McLeish | Rubia Salgado | João Pedro Stédile | A CrimethInc ex-Worker | Precarias a la Deriva | Trevor Ngwane | Marcela y Oscar Olivera | Heloisa Primavera | Chris Carlsson | The Free Association | David Bleakney | Olivier de Marcellus | Go Hirasawa y Sabu Kohso | John Clarke | Guy Taylor | Thomas Seibert | Dr Simon Lewis | Amador Fernández-Savater.
ARTÍCULO ADICIONAL EN LÍNEA
Colectivo Situaciones, 'Impasse: Un tiempo en suspenso'
Un PDF de la revista se puede descargar desde aquí.
Para leer traducciones de artículos publicados en Turbulence, en español y otras lenguas: http://turbulence.org.uk/translations/
Turbulence son: David Harvie, Keir Milburn, Tadzio Mueller, Rodrigo Nunes, Michal Osterweil, Kay Summer y Ben Trott.
Note to non-Spanish speakers: This is an announcement for a Spanish language edition of Turbulence produced for distribution at the World People's Conference on Climate Change and the Rights of Mother Earth in Cochabamba, Bolivia from 19-22 April, 2010 (and available online here as a PDF). The articles contained in this issue were originally published in the English language Issue 5 of Turbulence.

Tweet
comments