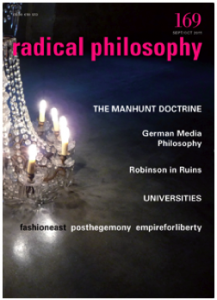 Issue 169 (Sept/Oct 2011) of Radical Philosophy carries a review by Gavin Grindon of our book, 'What Would it Mean to Win?' With kind permission from Radical Philosophy, we have republished the review here (PDF).


Yesterday's Norwegian leftwing daily newspaper, 'Klassekampen', carried an article by Jonas Bals discussing our Issue 5 editorial 'Life in Limbo?' at some length. We've uploaded a PDF of the article here. An extended version was also published on the 'Vagant.no' website.
Further discussion of 'Life in Limbo?' and other Turbulence articles can be found elsewhere on our website.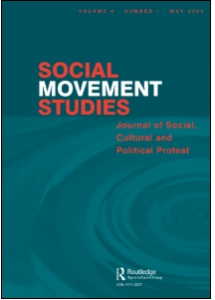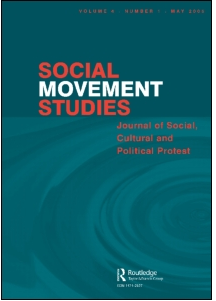 The latest issue of Social Movement Studies: Journal of Social, Cultural and Political Protest (Vol. 10, Issue 2) carries a review of our book, What Would it Mean to Win? The review can be found on pages 214-216 and was written by Bertie Russell.
Unfortunately, the review can only be accessed by subscribers to the journal, or those who are members of libraries that subscribe. Here's a short extract, though:
.
.
.
To ask why these texts have been republished three years later is to ask what has remained the same (and what is profoundly different) about the movements being critically explored. Far from an attempt to immortalize the texts, or to capture movement knowledge(s) within some abstract yet destructive academic assessment framework, the republication of these texts serves a reminder that we must constantly keep reassessing the efficacy of our politics. Rather than taking refuge in refrains – inhabiting a world of recognition – we must constantly look for those excesses that move us beyond the present.
If you are a Social Movement Studies subscriber, a direct link to the article can be found here.
Further reviews of What Would it Mean to Win? have been published by: Groundswell | Red Pepper Dec/Jan '11 | Grand Rapids Institute for Information Democracy | Queesch No. 24

In January 2011, a review of our book, What Would it Mean to Win?, was published in Issue 24 of the multi-language Luxembourg-based magazine, Queesch. The review, written by Katy Fox, can be read in full here.


David Harvie, a member of the Turbulence collective (and also of The Free Association), participated in last year's Attac Suisse summer school, where he spoke on The Crisis of Antagonism and the Crisis of Organisation. The audio recording of his talk and the ensuing discussion is now available below. David is first introduced (in French) by Carol Bonvin, an Attac Suisse activist and one of the event's organisers. David begins his talk 2mins 20sec into the recording and speaks (in English) for just over half an hour. The questions/discussion part of the session starts at 34.45; this might be much harder to follow, unfortunately, as participants mostly speak in German or French (with whispered translations into English), whilst David responds in English.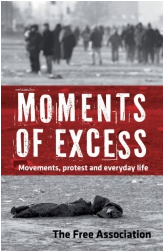 Turbulence-editors and Free Association-members David Harvie and Keir Milburn will be in the US in mid-March to talk about The Free Association's new book Moments of Excess: Movements, Protest and Everyday Life (published by PM Press). (Scroll down for preview.) Their itinerary includes the following events:
Sunday 13 March, 2pm, Oakland.
Niebyl–Proctor Marxist Library, 6501 Telegraph Avenue
Forum discussion
.
Monday 14 March, 7pm, San Fransisco
The Green Arcade, 1680 Market Street (at Gough)
Talk and discussion
Tuesday 15 March, 7pm, San Francisco
Station 40, 3030 16th Street (at Mission).
Talk and discussion on "Moments of Excess, Movements, and a New Generation of Struggle".
Wednesday 16 March, 7pm, San Franciso
CounterPulse, 1310 Mission Street.
"TALKS! Moments of Excess: panel and discussion about how we situate ourselves in current movements and how to prepare ourselves for future events"
(With Aaron Benanav, Gifford Hartman, Robert Hurley and David Solnit.)
Thursday 17 March, 7pm, Sacramento
Marxist School of Sacramento, Sol Collective, 2574 21st Street
Talk and discussion
Saturday 19 March, 3pm, New York City
Panel on "Movement, generation and moments of excess"
(With Peter Linebaugh, Malav Kanuga and Marina Sitrin)
Monday 21 March, 7pm New York City
Bluestockings, 172 Allen Street
Talk and discussion
Book Preview, via Google Books

As reported last year, two Turbulence editors feature in Reel News' Issue 22 in a piece entitled 'Carbon Trading: Privatise the Air'. Issue 22 was released in February 2010, shortly after the launch of Turbulence 5 at the Copenhagen UN Climate Conference.
Reel News Issue 22, as well as other issues of the video magazine, can be purchased online here.
The segment can now be viewed online here.
Carbon Trading: Privatise the Air


Back in October 2010, we announced that a Portuguese translation of our Issue 5 editorial article, Life in Limbo?, had been published in Issue 30 of the Brazilian journal, Lugar Comum (available for purchase here). The translation is now also available online here.


In April 2010, at the World People's Conference on Climate Change and the Rights of Mother Earth in Cochabamba, Bolivia, we launched the first Spanish language edition [PDF] of Turbulence, containing a number of articles previously included in Issue 5. Now, the web edition of the Spanish language journal, Herramienta, revista de debate y crítica marxista, based in Argentina, has published our Issue 5 editorial article, Life in Limbo? The article was published in Issue 7 of their new web-journal, the full contents of which can be found here. For more information about Herramienta, click here.
As ever, further Spanish and other language translations can be found via our website at: http://turbulence.org.uk/translations/

We've begun collaborating with The Post-Capitalist Project which describes itself as "a cooperative, nonsectarian venture of left journals, popular education centers, and electronic media."
On the Project's website, they explain the following:
"Our goal is to make easily available the wide range of new programs, experiments, and theories analyzing the transition beyond capitalism toward a socialist future, recognizing that "socialism" is a protean concept encompassing many different historical experiences and future possibilities.

"The project seeks rigorous interrogations of a wide range of questions, addressing possible changes in literally all aspects of our current way of life—from our vision of the potential development of human capacities, to the specific ways a post-capitalist economy—production, distribution and consumption– could function, role of markets, etc., to how our moral and ethical priorities can help us reshape our society, to our relationship to technology and nature, to our forms of governance/self-governance, to how we organize now for a future world–and much more.

"We are also interested in the question of what we can create or have created within capitalism that contributes to a socialist society, as well as why we should be envisioning a future world, especially since we may expect these visions to change and develop in the course of struggle."
Each collaborating publication or project contributes at least one, and a maximum of five, articles per year. Our first contribution is the editorial article, Life in Limbo?, published in Issue 5 of our magazine.
Other contributors to the Project currently include: The Brecht Forum | Left Turn | New Labor Forum | Portside | Radical History Review | Rethinking Marxism | Science & Society | Situations: Project of the Radical Imagination | Socialism and Democracy | Socialist Project | Socialist Register | The Indypendent | The Nation | Transform! | WorkingUSA: The Journal of Labor and Society | Z Communications
For more information, see: http://postcapitalistproject.org/about