Turbulence @ ESF in Malmoe
Thousands of copies of Turbulence 4, 'Who will save us from the future?' will be being distributed at next week's European Social Forum (ESF) in Malmoe, Sweden (18-21 September 2008).
Grab your copy there, if you don't already have one. Or better still, grab a bundle of 10, 20, 50, 100,… to take back to your local independent bookshop, social centre, university, or group of mates.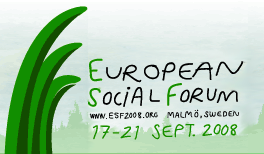 Update: Copies will be available as of Thursday afternoon/Friday morning from Utkanten (English info) social centre. The address is:
Utkanten, Industrigatan 20, Malmoe.
And there's a map here.
Enquiries: editors@turbulence.org.uk
For details about events at and around the Forum, check out one or more of the following links:
European Social Forum (see also here)
Actions and Demos 'News-ticker' feed

Tweet
comments