Turbulence 3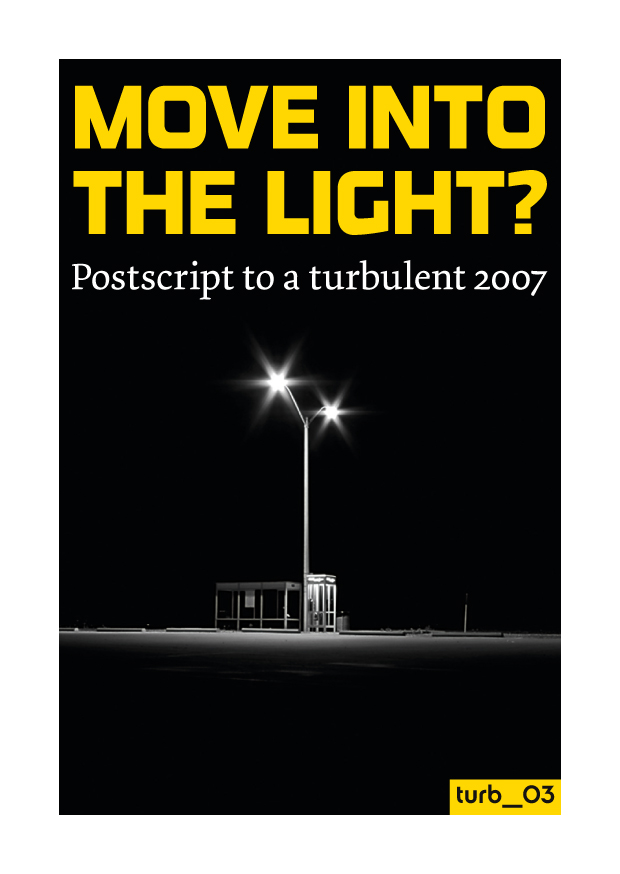 Turbulence 3, Move into the light?, was produced in December 2007: 6,000 copies were printed in English, with a further 4,000 in German.
We still have a few printed copies left. Drop us a line editors[at]turbulence.org.uk (or even better, make us a donation!) and we'll put a few in the post. NEW: PM Press edition available! More information here.
Copies of the new PM Press edition are also available via: Amazon.com (USA)
Amazon.ca (Canada)
Amazon.de (Germany)
Amazon.at (Austria)
Amazon.fr (France)
Amazon.co.uk (UK)
Amazon.co.jp (Japan).
The English version is available to download here as an A6 booklet. The German version is available to download here.
An extended introduction, written for ephemera: theory and politics in organisation, gives a little more background to the publication and is available here.
A review of the text was published in Issue 1 of Phosphor: A Surrealist Luminescence.
UPDATE, MARCH 2010: 'Move into the Light?' has now been republished in a new book, 'What Would it Mean to Win?', along with all the articles from Issue 1 of Turbulence and a previously unpublished interview with two Turbulence editors. For more information, including how to order a copy, click here.
TRANSLATIONS
German: Ins Licht hinein? (PDF) (carried as a supplement in ak – analyse & kritik (Issue 524, January 18 2008) and grundrisse: zeitschrift fuer linke theorie & debatte (Issue 25, early-2008))
Italian: Andare verso la luce?
Spanish: ¿Caminando hacia la luz?
Portuguese: Em direção à luz? (published by Le Monde Diplomatique Brasil (July 16 2008))
The section of Move into the Light? on climate change is now also available in Greek here. The same excerpt was also published in German in the Block G8 brochure, 'Chef, es sind zu viele', published in May 2008)
If you can help us translate Move into the Light? into any other language, please contact us editors[at]turbulence.org.uk.