Turbulence German-Language Finance Special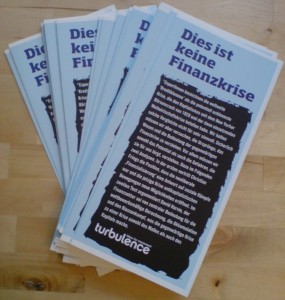 Turbulence have produced a German-language 'financial crisis special', featuring the two articles addressing the issue in Turbulence 4. Both pieces, by David Harvie and Christian Frings, are available in English (Harvie, Frings) and German (Harvie, Frings) online here. The flyer can also be downloaded as a PDF.
The special will be featured as a supplement to the forthcoming issue (No. 39) of arranca!, published by the group FelS in Berlin, on 'militant investigation'. The magazine will be available from December 19.
Copies will be available at the Interventionist Left's mini-conference on the crisis in Frankfurt Main on January 25 2009. Further copies can be ordered (for a small donation to help cover costs) via the usual email address: editors@turbulence.org.uk 

Tweet
comments