'We Won't Pay For Your Crisis' Demo, 28 March, Berlin & Frankfurt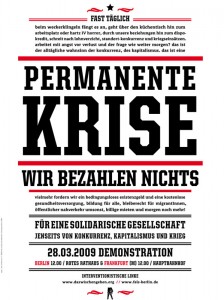 A broad coalition of extra-parliamentary groups and networks, trade unions, political parties, environmental organisations, academics and the editorial boards and collectives of a range of publications are calling (1, 2, 3, 4) for participation in demonstrations in Berlin and Frankfurt on March 28, 2009 – a few days ahead of the G20 Summit in London. Turbulence are supporting the demonstrations! (Read the short, English language, Call for the demonstrations here.)
The events form part of a Global Day of Action, called for both by a meeting of civil society and social movement organisations who issued the Paris Declaration, as well as the Assembly of Social Movements at the 2009 World Social Forum.
The meeting point for the demonstrations in Germany are as follows:
Berlin: 12:00, Rotes Rathaus. Rathausstraße 15, 10178 Mitte.
Frankfurt: 12:00, Hauptbahnhof (Central Station) & Bockenheimer Warte U-Bahn Station.
Transport information, for coaches to both Frankfurt and Berlin, is available here.
Here's the mobilisation clip for the demo:

Tweet
comments