Event: Signs of Revolt – Creative Resistance and Social Movements since Seattle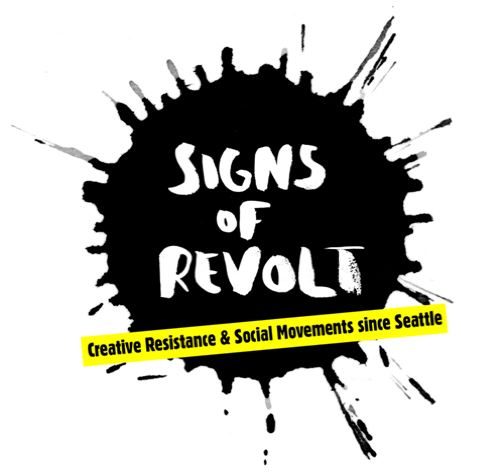 Turbulence will be among the groups participating in the 'Signs of Revolt' event from Friday 13 – Sunday 22 November, 2009, at the Old Truman Brewery (91 Brick Lane) in London. [Map]
10 years ago, in November 1999 an alliance of direct action activists, environmentalists and trade unionists shut down the meeting of the World Trade Organisation in Seattle, stopping the next trade round of Capitalist Globalisation. In the process they sparked a Movement of Movements right across the globe its slogan became 'Another World is Possible'.
This November exactly 10 years from that momentous demonstration, and with most of the predictions of the movements rapidly coming true what with the crisis of the economy, a permanent state of war and the collapse of our eco-system wrecking lives across the planet, the rich and powerful meet again in Copenhagen to discuss the next Climate treaty after Kyoto, yet again activists are preparing to challenge the idea that the Market can solve the problems of the world, and take another step toward that possible world after Capitalism.
Signs of Revolt is an exhibition that weaves together the story of the past decades social movements, drawing out the influences and connections between and across the movements against Capitalism, War and Climate Change. Using archive material and documentary photography and video from movement photographers and filmmakers. It reveals the story of how we got from Seattle to Copenhagen.
Interspersed in this narrative are works by artist and designer activists and collectives, produced during, within and for the movements, this is the first time such a collection has been brought together in the UK and it will be a chance to reflect upon and celebrate the new creative impulses that the movements spawned and the possibilties for developing the creative capacity of future movements, these issues will also be discussed in greater depth during a series of talks during the exhibition. (timetable here).
As Capitalism threatens our very existence, Signs of Revolt defiantly maps out possible routes to a future filled with hope…
Address: Shop 14,  The Old Truman Brewery, 91 Brick Lane, London, E1 6QL, UK. Website: here.
More information, including the full programme and details of Turbulence's participation to follow. Watch this space!
UPDATE (19 Nov, 2009): Advance copies of Turbulence 5 are now available at the exhibition.

Tweet
comments