New Team Colors Volume on US Social Movements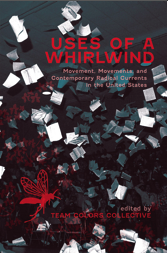 A new book edited by Team Colors Collective, 'Uses of a Whirlwind: Movement, Movements and Contemporary Radical Currents in the United States' (AK Press: June 2010) is now available for pre-order here.
We wrote the following blurb for the inside cover,
"Uses of a Whirlwind is an important contribution to an emergent, yet still sparse body of literature working to critically engage and rethink what it means to make political interventions today, in a world characterized by crises, uncertainties, and complexities. Not only is it one of the few collections of texts to do so grounded explicitly in the United States, it also brings crucial topics and perspectives often excluded from political and activist analyses to the fore. It argues that care and cultivating durable and holistic activist practices and communities are vitally important parts of any truly radical political project."
More information about the book can be found here.

Tweet
comments