e-Newsletter 5
CONTENTS
1)    Turbulence @ ESF In Malmoe
2)    Climate Camps 08: Some Early Analysis
++++++++++++++++++++++++++++++++++++++++++++++++++++++++++++++++
1)

   
TURBULENCE @ ESF IN MALMOE
Thousands of copies of Turbulence 4, 'Who will save us from the future?' will be being distributed at next week's European Social Forum (ESF) in Malmoe, Sweden (18-21 September 2008).
Grab your copy there, if you don't already have one. Or better still, grab a bundle of 10, 20, 50, 100,… to take back to your local independent bookshop, social centre, university, or group of mates.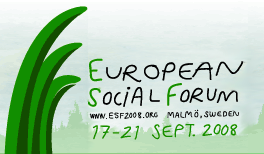 We're not yet exactly sure where copies will be being stored (although we imagine they'll be pretty easy to find!) To be sure, though, check the 'News' section on our website from Thursday 18 September when there should be more precise information available.
For details about events at and around the Forum, check out one or more of the following links:
European Social Forum (see also here)
Actions and Demos 'News-ticker' feed
2)

   
CLIMATE CAMPS 08: SOME EARLY ANALYSIS
Photo: Guy Smallman
This summer (2008) Camps for Climate Action have been held in several countries. While we didn't make it to some of them, such as the quite significant Australian event, the latest issue of Turbulence was distributed in some numbers at both the British and German camps, while members of the Turbulence collective also participated in the talks and workshops that were held there.
As part of this intervention we have both gathered together some record of our contributions as well as some analysis of the events that we have come across. You can find it all here.
We hope to be updating the article links on this page regularly, so keep checking back. Also, if you come across (or write) anything you think might be helpful, send it along to us at editors@turbulence.org.uk
(September 13, 2008)
++++++++++++++++++++++++++++++++++++++++++++++++++++++++++++++++
www.turbulence.org.uk // www.myspace.com/turbulence_ideas4movement // editors@turbulence.org.uk
To stay informed about future 'Turbulence' publications and projects, subscribe to our (very!) low-traffic e-newsletter here: https://lists.riseup.net/www/info/turbulenceannouncementslist