Red Pepper Review Our Book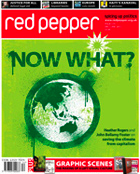 There's a review of our book, What Would it Mean to Win?, in the December/January 2011 issue of Red Pepper magazine, written by the publication's co-editor James O'Nions. The review is available via their website here, and we've also reproduced it here.
As ever, further discussion of Turbulence can be found here.

Tweet
comments