A Dutch translation of 'Life in Limbo?', the editorial article from Issue 5 of Turbulence, is now available. Many thanks to Globalinfo.nl for the translation! The translation can be found here. A Danish translation of the article is also available here. Further translations are to follow soon. Get in touch if you can help out.

The new issue of Turbulence is now available in Edinburgh. You should – within the next few days, if not already – be able to find copies at ACE, Word Power Books and The Forest. You can also pick up a copy from AK Press. Many thanks to AK for this!


Thousands of copies of Turbulence 5 are available in Copenhagen, ahead of next week's UN Climate Conference. (A Danish translation of the issue's editorial article is available here.) Copies will be distributed to various points across the city, so keep an eye out and grab a copy. If you would like to take a bundle to distribute, or to take back to your corner of the world, that would be great! They're available from Folkets Hus (trans. 'People's House').
Here's the address:
Stengade 50
2200 København N, Denmark
3539 1950
And here's a map.
Go to the cafe and ask to get some copies from the garrage.
We're also looking for help distributing thousands of copies on the big demonstration in Copenhagen on Saturday 12 December. Get in touch if you can help out! editors@turbulence.org.uk
The demo begins at Christiansborg Slotsplads (Parliament Square) in central Copenhagen at 13.00 and ends at the summit venue at the Bella Center.
For more information about activities in Copenhagen, see the following websites: Climate Justice Action | Climate Camp, UK | Global Climate Campaign | Official UN site | Laboratory of Insurrectionary Imagination | December 12 Demo | Modkraft.dk (Danish language only)
Check out this GoogleMap for some of the most relevant locations in Copenhagen.

The new issue of Turbulence is now available from both AK Press and Active Distribution. If you buy some other product from either of them, they should send you a copy of Turbulence too. Thanks to both AK and Active for this.

We'll be distributing thousands of copies of Turbulence 5 around the Copenhagen Climate Conference later this month. Ahead of the Summit, here's a Danish translation of the Turbulence editorial, 'Life in Limbo?'(The English original is here.)
The translation first appeared at Modkraft.dk. Many thanks to David Balleby Rønbach for the translation!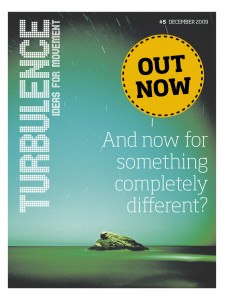 Issue 5 of Turbulence, 'And now for something completely different?', is out and online now. You can order copies from us at editors[at]turbulence.org.uk
The articles are available in full here. A PDF of the magazine can be downloaded here.
A collection of resources to help promote the issue are available here.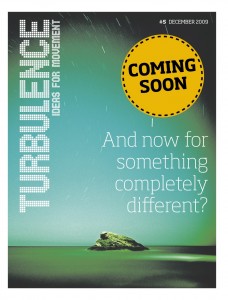 Issue 5 goes online next Wednesday. Check back here then!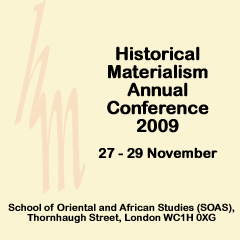 Issue 5 of Turbulence will be officially launched at the Historical Materialism Conference in London (November 27-29, 2009). The event will take place at the School of Oriental and Asian Studies (SOAS), Thornhaugh Street, London, WC1H OXG. The Turbulence editors will present the issue and the core problematics it attempts to address. John Holloway and Angela McRobbie will be the official 'discussants' on the panel, and we hope to get a conversation going with everyone who comes along. The panel will be chaired by Matteo Mandarini.
The conference is organised by the Historical Materialism journal and is an increasingly important location for discussion among the critical-Marxist left and beyond. This year's conference is titled 'Another World Is Necessary: Crisis, Struggle and Political Alternatives'. The event is free and open to the public, but prior registration is required (see website below). A suggested donation for this self-funded event, for those registering in advance, is £40 waged and £15 unwaged.
Historical Materialism Conference website.
Conference programme here.
Map to find SOAS.
OUR PANEL: Sunday 29 November 2009, 2.45-4.30pm, room G52.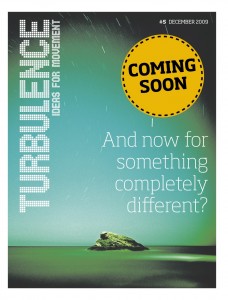 Can you help us distribute Turbulence 5 in North America? We're looking for people who can help out by either distributing small bundles of 10-50 copies among friend, colleagues, etc… as well as people who can help us get rid of much larger numbers. We're also looking for people who can help store up to 1-2,000 copies in a couple of large cities. If you can help, get in touch with us as soon as possible at editors@turbulence.org.uk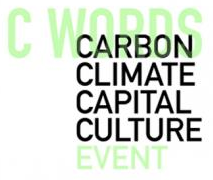 The Laboratory of Insurrectionary Imagination have a week long installation (17-22 Nov.), Operation Bike Block, followed by a week of workshops (22-29 Nov.), at the Arnolfini gallery (16 Narrow Quay, Bristol, BS1 4QA, UK). For more information on the Lab's events at the gallery, click here and here (See also the Bike Block video and the Lab's website.)
The event is part of the C Words two month investigation organised by Platform at the Arnolfini Gallery in Bristol in the run up to the Copenhagen Climate Summit. For more information click here.
Advance copies of Turbulence 5 are now available at the exhibition.
Many thanks to the Lab!